[Update: I've kept this here for historical interest – MRCC Falmouth was indeed reprieved (it is now a Coastguard Operations Centre, or CGOC), although other smaller stations such as Brixham were closed and transferred to a National Maritime Operations Centre at Fareham]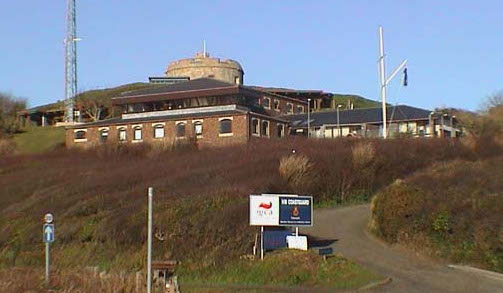 To any amateur sailor or professional seafarer navigating the Cornish coast – or indeed much of the North Altantic – the phrase "Falmouth Coastguard" has an immediate comforting recognition. Yet, in new proposals to modernise and streamline the Coastguard service, Falmouth would be reduced to daytime-only working, and it's pretty clear that the current long-range cover would be moved out of Cornwall to a new facility in the Solent area, with the loss of a significant number of high-value jobs.
The consultation document gives some very good reasons why the Coastguard service needs to be modernised and make use of new technology to be more efficient and resilient. I'm all for public sector efficiency savings! The issue for Cornwall should be why the new "South Maritime Operations Centre" (MOC) should be built in new premises in the Solent area rather than expanding the Falmouth facility. If we can change that one aspect, this could be a win for Cornwall – and for maritime safety – rather than a loss.
Proven capability
Falmouth Maritime Rescue Co-ordination Centre (MRCC) already handles the largest Search and Rescue region in Western Europe – 660,000 square miles of the North Atlantic. They have the proven skills to handle major incidents at all hours of day and night. They have the local knowledge of the Cornish coast, the first, but most treacherous, landfall for most traffic coming into Europe.
If you look into the 'loading' figures on pages 16-17 of the consultation document, you can see direct evidence of the critical service Falmouth provides for 24hr, all-year cover:
Demand by Month: Falmouth is already one of the most highly loaded stations and retains this load throughout the year, unlike Solent which is highly skewed towards the summer.
Demand by Time: Falmouth is by far the most highly loaded station at night and at 4am appears to take about 20% of the total load. Solent, on the other hand, although it's slightly busier during the day (probably only the summer, if you cross-reference to the other graph), it's practically unused at night.
It's pretty clear why this is: Falmouth is handling long-range, largely merchant traffic, year round, 24/7, whereas Solent is mostly handling the summer yachties.
Moving the long-range North Atlantic cover?
The proposal is to downgrade Falmouth to daytime-only working, and build a new Maritime Operation Centre (MOC) in Southampton, one of two in the country (Aberdeen is being expanded as the other). Given it would be daytime only, Falmouth would be basically handling only local leisure traffic; professional shipping works at all hours! This must mean it that its offshore and ocean North Atlantic responsibilities would be moved to Southampton – it's hard to imagine them handing over a rescue situation just because the sun has gone down, or come up!
I don't know whether the MRCC Falmouth staff with long-range experience would be prepared to move to the Solent area; my guess is probably not – Cornwall is a very sticky place. But it's abundantly clear that the high value jobs will be in the MOCs, and the 'sub-centres' will have reduced staff numbers, and possibly lower gradings as well. Put another way: this is 'exporting' significant numbers of high-value marine sector jobs across the Tamar. This is something the Cornish MPs should be making a song-and-dance about, even if they follow the party line on the overall efficiency drive.
Why build new?
But read the document – the proposal isn't to expand MRCC Solent, it is to build a brand new centre in the Southampton area, probably at RNAS Lee-on-Solent (HMS Daedalus). But why build new in Southampton? Why not expand MRCC Falmouth into MOC South and retain the superb local knowledge and skills there already are in place? Why take away skilled jobs from a deprived area and move them to a relatively affluent one?
The apparent reasoning is given on page 22:
There is no existing Coastguard facility on the south coast suitable for conversion into a MOC, and alternative options would need to be considered. The MCA has land at the Daedalus site at Lee on Solent which would be suitable for a new-build centre. The Portsmouth/Southampton area in any case provides an ideal location for such a centre having good travel links to the rest of the country and a large maritime sector. We therefore propose to look further at both a new build at Lee on Solent but also at other government buildings in the area which might offer a suitable alternative home for a Maritime Operations Centre.
OK, so let's pick this apart. Firstly, it states without qualification that no existing site – including Falmouth – is suitable to conversion to a MOC. Why not? If the existing Pendennis site is too small, can it be expanded? It's hard to see there being much local objection. Or could the core be moved to somewhere else in or near Falmouth (maybe RNAS Culdrose?) leaving the existing site as a local lookout, manned by volunteers? Where is the documentation on this option being genuinely considered?
Secondly, the MCA has an existing Search and Rescue presence at Lee-on-Solent – but apparently no suitable buildings. But actually, read on, and they might look at other government buildings instead – so this land issue isn't that important after all. They are clearly intent on bringing it to the Solent in any case.
So why the Solent? It has a large maritime sector – fair enough, you need to hire experienced staff. But so does Falmouth, and arguably a more strategic geography – and some of those experienced people already work at MRCC Falmouth!
So what's left – "good travel links to the rest of the country". Hang on – isn't this supposed to be a national Maritime Operations Centre? What have good land travel links (translation: just down the M3 from London) got to do with it? If you look at what really matters – maritime location and electronic communication links – Cornwall is second to none, and getting better all the time…
How to help
So if you agree with me that Falmouth should retain 24hr long range cover, and even become the new "South MOC", what can you do about it?
Firstly, read the consultation document in full. It has some good points, and it's important to understand the background and the MCA's point of view.
Secondly, if you're professionally involved or a reasonably knowledgeable amateur, respond to it (you have until 24th March 2011), maybe emphasising some of the points I've made above.
Thirdly, if you live in Cornwall – and particularly if you live in Falmouth – write to your MP, and ask why they are rolling over and supporting moving skilled local jobs in our key marine sector out of county, instead of campaigning for Falmouth getting the MOC.
There is also a hint on Sarah Newton's blog on the subject of local consultation meetings. I will try to find out where and when these are being held – if anyone else gets this information first, please comment here.
Many thanks
Paul
Update: Falmouth as a nexus of global maritime safety communications
The more I read about MRCC Falmouth's role, the greater my respect for them and the clearer their existing critical role becomes. In the MCA's national SAR Framework document, it lists (p.23) the many areas where Falmouth – alone – handles the UK's links to the global maritime safety systems (acronym alert!):
1.6.1 In addition to its normal search and rescue co-ordination role, MRCC Falmouth is also the
UK's Global Maritime Distress & Safety System (GMDSS) Centre. MRCC Falmouth is
linked directly to the Coast Earth Station at Goonhilly whereby distress, urgency or safety
messages received via the Inmarsat satellite systems are routed automatically to MRCC
Falmouth for SAR action. Any distress alerts received from vessels outside the UKSRR,
then MRCC Falmouth will pass details to the appropriate foreign RCC. Where
this is not possible, then MRCC Falmouth will co-ordinate the necessary SAR action
regardless of location worldwide.
1.6.2 MRCC Falmouth also possess an Operational Control Centre for the COSPAS/ SARSAT
satellite distress alerting system which is linked direct to the MCA's Satellite Local User
Terminals at its Combe Martin Radio Site. The OCC operates in support of the
COSPAS/SARSAT UK Mission Control Centre (MCC) at the Air Rescue Co-ordination
Centre at RAF Kinloss described in Chapter 2.
1.6.3 All NAVTEX broadcasts originate from MRCC Falmouth for both the 518 kHz and
490 kHz services.
1.6.4 The National Maritime Emergency Position Indicating Radio Beacon (EPIRB) Registry
is also located at MRCC Falmouth and provides the necessary identification of vessels
following distress alerts from EPIRBs.
Then, in the section on International Liaison, on p.48, we see that Falmouth handles liaison with foreign search and rescue bodies in France, USA, Canada and world-wide – many more than any other station. Solent, by comparison, handles none.
So, apart from the loss of valuable skills, imagine the expense and disruption of moving all this capability to Southampton!